10 great reasons to experience Viterbo
10 great reasons to experience Viterbo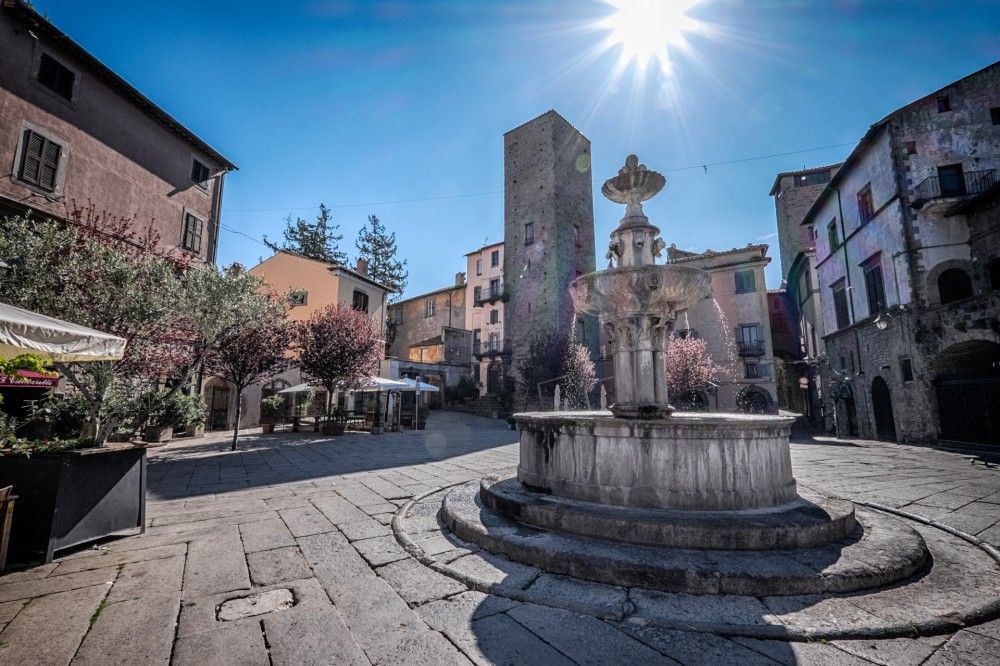 Few holiday destinations offer the charming variety you can find in Viterbo: whether you are strolling through its picturesque city centre, relaxing in the thermal baths or enjoying a gourmet meal, a holiday in Viterbo will let you experience the real Italian dolce vita (sweet life) that will leave you wanting to come back as soon as possible. Here's our top ten reasons to come and Experience Viterbo:
1. The Papal Palace
Located in the beautiful Piazza San Lorenzo, next to the city's stunning cathedral, the Papal Palace (locally known as Palazzo dei Papi or Palazzo Papale) is Viterbo's most famous (and most photographed!) landmark. Don't miss the breathtaking views of the city walls from the small courtyard behind the seven-arched loggia at sunset.
2. The Thermal Baths
The sulphuric water coming out of the local hot springs is recognized as one of the best in the world for its therapeutic properties, especially for the treatment of respiratory, bones and skin diseases. Then again, it works very well even if you are in good health! Regenerate your body and mind in the luxurious settings of the two top-of-the-range Spas in Viterbo: don't miss a romantic dip in the thermal pool at night.
3. Macchina di Santa Rosa
Listed as Intangible Cultural Heritage by UNESCO since 2013, the Macchina di Santa Rosa is a 28 meters high structure carried through the medieval streets of Viterbo by 100 Facchini (porters). The procession takes place every year on the 3rd of September. Exhibited at the recent Expo 2015 in Milan, the Macchina di Santa Rosa is the feather in the city's cap. Don't miss the chance to get the ultimate goose-bumps when all the lights in town are switched off and the Macchina lights up a late Summer night.
4. The Medieval Quarter
Popular with film crews and featured in many tv commercials, San Pellegrino is the vibrating heart of Viterbo. It's the largest and best preserved medieval city centre in Europe, with buildings dating back as far as the 11th century. Many trendy bars and gourmet restaurants are nowadays located here, making your drinking and dining experience an exceptional one. Don't miss the opportunity to get a photo taken sitting on one of the many profferli, the typical external staircases that you can find only in Viterbo.
5. Villa Lante
This Reinassance villa, located in the suburb of Bagnaia (just 3 miles outside Viterbo's city centre), was originally built as the summer residence for a cardinal. Its stunning Mannerist garden, with its unique design, perfect proportions and striking water features, keeps getting featured in major international magazines. Don't miss the lovely view of the terracotta roofs of Bagnaia whilst sitting at the massive stone dining table (with an inset fountain).
6. Food, food and more food!
From street food to elegant restaurants, Viterbo offers top quality food wherever you decide to give in to those clear signals your stomach is sending you. Being far from massive air pollution and making the most of the rich, volcanic land equals to great, local produce. Combine that with an ancient culinary tradition and there you go. Hungry now? Don't miss the chance to forget all about your diet for a few days and enjoy yourself!
7. Festivals and cultural events
Many are the events throughout the year that take place in Viterbo: exhibitions, concerts, food festivals. It's hard to pick a few from such a long list whilst keeping our writing short. Don't miss our newsletter: we promise to send you specific information for each event, always in time for you to arrange your trip here and without cluttering your inbox.
8. The Francigena Way
The joy and luck of being in such a gorgeous part of Italy also means that Viterbo is bang on the Francigena way. Yes, exactly that ancient route that in medieval times connected Canterbury to Rome. Recently rediscovered by modern travellers, in Spring and Summer it is packed with joyful pilgrims walking along an enchanting route. Don't miss the Monument to the Pilgrim in Montefiascone when you're heading South towards Viterbo.
9. Archeological sites
Be it monumental Roman architecture or Etruscan tombs, if you have a soft spot for archaeology Viterbo is where you want to be. Starting from the outskirts of town, where you can find the Castel d'Asso's rock necropolis, heading West until you reach the Mediterranean cost, the countryside around Viterbo is dotted with amazing archaeological sites. Then again, if you do not wish to venture outside town, the Museo Nazionale Etrusco Rocca Albornoz in Piazza della Rocca 21/b (adjacent to Porta Fiorentina) will allow you to admire many of the findings that come from these sites without the need to hire a car.
10. Retail therapy
It would not be fair to end this list without mentioning our oh-so-loved Made in Italy. From fashion to interior design, from jewellery to…well, jewels for your table, such as food and wine, there is plenty for each pocket in Viterbo. Don't miss a stroll along Corso Italia, the most central and fashionable street for your spot of shopping.